Bed & Breakfast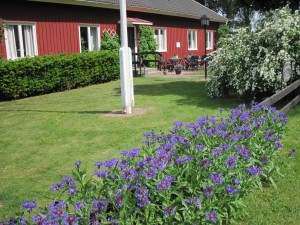 Welcome to Ribbingstorp Bed & Breakfast
Relax in a rural mansion environment at Ribbingstorp's farm in Västra Götaland. Grevinnan Ribb, Grace Ribb, Victory Flight and Jet Ribb are all successful racehorses from the farm that have given their name to the four renovated rooms that Ribbingstorp Bed & Breakfast offers. All are comfortably and modernly decorated in a country mansion style. Each room has its own toilet, shower and TV. The house is located to the left of the main building when you drive up the farm's avenue and it is easy to get from the E-20 by both car and motorcycle with large parking space for bigger vehicles.
There is also access to a small kitchenette with Micro, hob, kettle, fridge and freezer.
On the first floor there is a common living room adjacent to the dining room.
Outside the house there is a large patio with garden furniture and the opportunity to barbecue.
There are beautiful golf courses to visit and play within 20 km of drive. If you are up for swiming in Swedens biggest lake Värnen it's only 40 km away, the big city of Gothenburg is 100 km away, and entertaining amusement park Skara Summerland is 35 km away.
Free wifi is available.